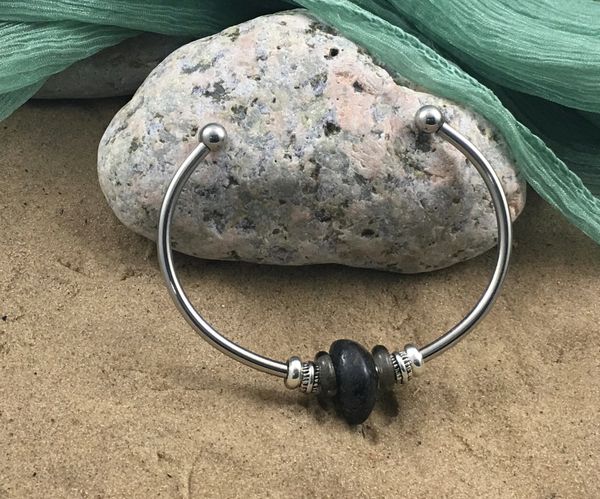 We use authentic hand collected beach stones for our bracelets. No two beach stones are the same. We offer a variety of colors but these changes depending on what we have in stock. The pictures we have here represent similar bracelets we can make for you. Please select the color you prefer when checking out.
Materials: Stainless steel cuff bracelet with removable end cap, authentic hand collected beach stones, sterling silver stopper beads, Czech glass beads and silver spacer beads.
Size: This bracelet slides on and is 2 3/4 inch. The bracelet may be gently pulled to adjust to different size wrists.
Beach Stones: We collect our beach stones from beaches we visit from New England to Florida.
Colors: We generally have the following colors: black, tan, brown, gray, peach, multi, and white.
Beach stones come in different colors and sizes and no two pieces are alike. We will try to accommodate your request for a specific color. We will always send you an image before you purchase. Just let us know what you would like.