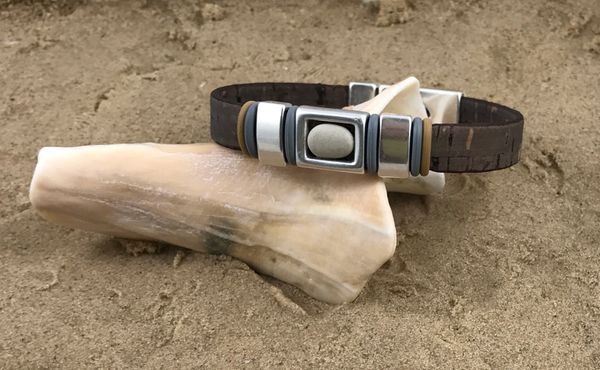 Our leather cuff bracelets are perfect for fashion minded guys. We use Italian leather or Portuguese cork and incorporate design elements to create a fashion statement just for you.
Materials: Italian leather or Portuguese cork, silver, copper or brass sliders, rubber O rings and a strong magnetic clasp. We offer them in either flat or round leather.
Color: For current colors, please see images above.
Leather Width: 10 mm for flat leather and 5 mm for round leather
Length: The average length of these bracelets is around 8 inches. If your wrist measures 7 inches to 7.5 inches these will fit just fine. However, tell us your wrist length and we will make a bracelet to fit you.
NOTE: We can incorporate small pieces of beach stones or beach glass into the design. glass/stones are all different and we will try to accommodate your request. What we show in the images may not still be available. But we will use a stone or piece of beach glass that is close.
NOTE: If you don't seem something for you, email us and tell us what you want. We will make it for you and send you images for your to review.