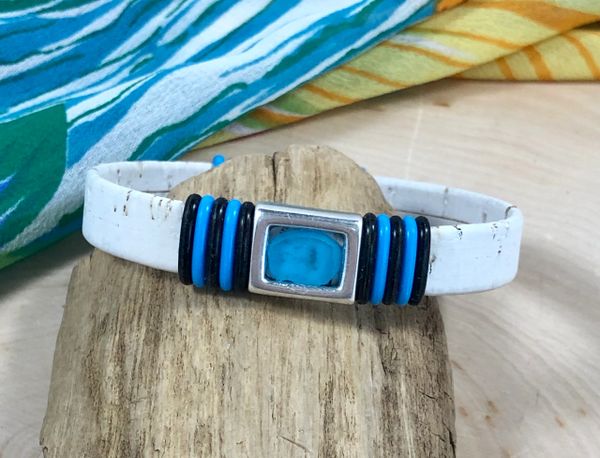 Our single leather cuff bracelets are perfect for fashion minded gals and guys and are perfect for any season. We use Italian leather or Portuguese cork and incorporate design elements to create a fashion statement just for you. 
Materials: Italian leather or Portuguese cork, silver, copper or brass sliders, ceramic sliders, hand collected beach glass, rubber O rings and a strong magnetic clasp.
Color: We offer many colors including black, white, tan, turquoise, sea foam, aqua, brown, navy blue, etc. Let us know if you want a particular color. I am sure we can accommodate your request. We also have a variety a beach glass colors (cobalt blue, cornflower, amber, sometimes red, green, etc.). Let us know if you would like another color. 
Leather Width: 10 mm flat leather
Length: Please select the correct wrist size from the pull down menu. Just measure your wrist - don't add any anything extra. Then select your wrist size.
NOTE: We make many different styles of our leather bracelets and they sell fast! If you don't see a bracelet for you shown here, please email us and tell us what you want. We can make it for you.