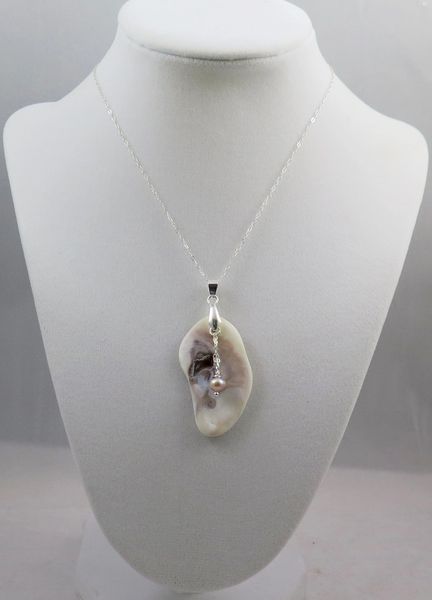 This item is no longer available at our website but you may purchase it from Bayside Gifts located at 4063 Smith Island Rd, Ewell, MD 21824.
The colors are just beautiful in this beach shell. It features a freshwater cultured pearl with sterling silver chain. It was polish tumbled and then hand drilled. The beach shell measures 1 3/4 inch by almost 1 inch.

Materials: Beach shell pendant, freshwater cultured pearl, Argentium sterling silver necklace, silver bail and a silver lobster claw clasp.
Length: 18 inches

Clasp: Lobster Claw
Beach: This beach shell was collected at Bethany Beach, DE

This exact necklace is not available for back order, but we will make you something similar. Beach shells come in various sizes, shapes and colors. No two shells are alike.